Gateway Garden Heights - LOCATION
Gateway Garden Heights is located at EDSA cor. Pioneer st. Mandaluyong City.
Gateway Garden Heights can be found off of EDSA on the corner of Pioneer Street in Mandaluyong City. Just a couple meters away from the MRT station Gateway Garden Heights is a neighbor to major hubs such as Bonifacio Global City Business Districts, Ortigas and Makati. The location ensures that you can enjoy the vibrant life and rest at home in an environment that will balance out vibrancy at the same time. 
The location makes these residences a great home for young professionals and aspiring business entrepreneurs. It is also a great place for families with children of all ages. Young couples and even empty nesters can enjoy making the Gateway Garden Heights their home all because of its exceptional location. 
Schools within close proximity to the residences include Barangka llaya Integrated High School, and the Barangka llaya Integrated Elementary School. There is also the Cembo Elementary School, the San Jose Elementary School and the Our Lady of Guadalupe Minor Seminary. All the aforementioned schools are within a kilometer from the residences making them really convenient for you and your family. 
You will also find a number of tertiary institutions within close proximity. These include the Arellano University Mandaluyong close by as well as the Don Bosco Technical College, the Lourdes School of Mandaluyong and Las Salle Greenhills. 
For peace of mind you will be happy to know that there are a number of hospitals and health centers located within close proximity to the residences at Gateway Garden Heights. You can find places less than a kilometer away such as the Dr. Victor R. Potenciano Medical Center and the Unciano General Hospital. The Mauway Health Center is just a little over a kilometer away. A little further away but less than 1.5 kilometers you will find the Makabayan Health Center as well as the Primary Health Center. The Medical City Ortigas Center is close by as well as the Mandaluyong Health Center. You will also find the Cardinal Santos Medical and the St. Luke's Medical Center – BGC.
For your leisure and entertainment you will find a number of malls and restaurants within close reach. The area is a hotbed of malls all within easy walking distance of approximately half a kilometer or less. The closest is the Forum Robinsons along with Madison Square. Then you can also find the Savemore Light Residence, Unimec Supermarket and Guadalupe Nuevo Wet Dry Market. 
For restaurants you will find a number of options close by as well. Sandwich Guy is literally right outside and if you keep walking you will find Adobo Connection. Restaurants less than half a kilometer away also include Gongcha, Country Style and Big Belly. 
When you want to get some shopping done you have a number of options to choose from as well. You can always visit the SM Mega Mall, Robinsons Place Forum and Robinsons Pioneer Mall. There is also The Podium where you can get some retail therapy when you need to. There is also the Powerplant Mall, SM Shangri-la Mall, Rockewell Center and Puregold.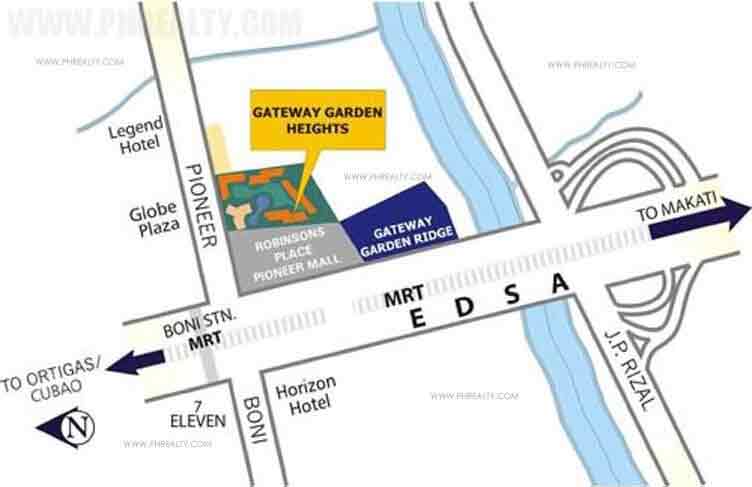 Learning organizations close to the site incorporate Arellano University Mandaluyong, Lourdes School of Mandaluyong, La Salle Greenhills, and Don Bosco Technical College, to give some examples. Different healing centers inside reach from Gateway Garden Heights incorporate Unciano General Hospital, the Medical City Ortigas Center, and Mandaluyong City Medical Center, among others.
Shopping centers and stimulation focuses nearer to the site include any semblance of Robinsons Pioneer Mall, The Podium, Robinson's Place Forum and SM Mega Mall among others.